Introducing Sex Ed for All Month!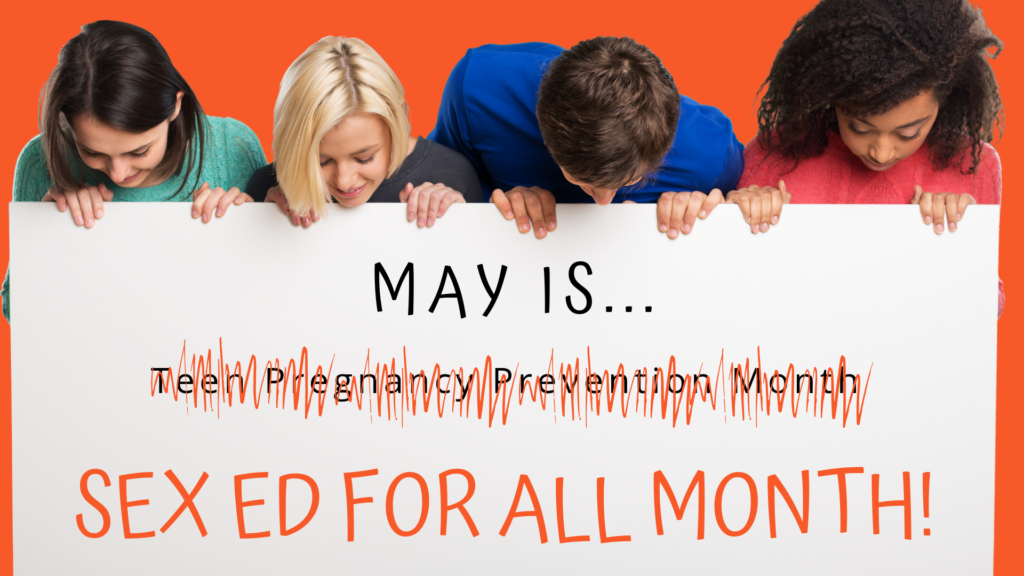 Rebrand alert: "Teen Pregnancy Prevention Month" is out. Sex Ed for All Month is in!
By Zach Eisenstein, Senior Communications Manager
April showers bring May… awareness month rebrands! Many folks in sexual and reproductive health and rights spaces are likely familiar with observing "Teen Pregnancy Prevention Month" each May. However, folks in the field are also likely aware that, despite even the best intentions, framing a month as "Teen Pregnancy Prevention" can end up causing more harm than good–shaming young people, and, especially, young parents.
Because here's the thing: The goal of an awareness month like this is not to tell young people if, when, or how they should (or should not) become parents. Rather, it's to give young people the information they need to make those types of decisions for themselves.
That's why, this May, we teamed up with our friends at Advocates for Youth, Healthy Teen Network, Planned Parenthood, and Power to Decide to introduce Sex Ed For All Month: Accessing Power, Information, and Rights.
This much-needed rebrand comes after years of labor from advocates, organizers, and young people–all across the country–who have been leading the charge. Namely, NoTeenShame created a movement in 2013 to push back "against the narrowly framed falsehood that young parents are incapable, irresponsible, and unworthy of dignity and respect." Their efforts–and those of other groups and people like them–to change policies, messages, and attitudes around the autonomy of young people laid the groundwork for the actions we are taking today.
It's time for a change when it comes to sex ed.
Right now, only 17 states require sex education to be medically accurate. Only nine mandate instruction to be culturally appropriate and free from biases based on race, ethnicity, or sex. And seven states explicitly require teachers to portray LGBTQ people negatively or not at all.
And when we deny young people their right to receive accurate, inclusive, and empowering sex ed, we aren't just prohibiting them from receiving information that keeps them healthy. We're also doing a disservice to our society at large.
At SIECUS, we often talk about sex education as a vehicle for social change. And that's because we know, with sex ed, we have a golden opportunity to create a culture shift – tackling the misinformation, shame, and stigma that create the basis for so many of today's most pressing issues.
At the root of our fights for LGBTQ rights, reproductive justice, gender equity, and ending sexual violence and harassment is the need to teach people about them in an unbiased and accurate way. We need to present young people, early on, with the evidence, not the ideologies.
We have the tools we need to make sex ed for all a reality.
Luckily, we already have a way to give young people the information they need. We call it comprehensive sexuality education and we use a lot of words to describe it. We use words like medically accurate, age- and developmentally appropriate, and culturally responsive.
But, at the end of the day, the goal of comprehensive sexuality education is simple: providing sex ed that meets the needs of all young people in all of the ways that they show up in the classroom.
And to better meet the needs of young people everywhere, we are working with our congressional champions on Capitol Hill to re-introduce two vital pieces of legislation: The Real Education For Healthy Youth Act (REHYA) and The Youth Access to Sexual Health Services (YASHS) Act.
REHYA would create the first-ever federal funding stream for comprehensive sexuality education in the U.S. And the YASHS Act would work to break down barriers that prevent already marginalized young people–like young people of color, immigrant youth, LGBTQ youth, youth in foster care, homeless youth, and young people in juvenile detention–from accessing the sexual and reproductive health care that they need.
From the #MeToo movement, to the women's marches, to the ongoing pushback against this administration's attacks on our sexual, reproductive, and civil rights, we have seen that our nation is looking for a way forward.
And young people are leading the charge. They are the ones telling us that, in 2019, it is beyond time that they get the information, skills, and services they not only need–but have a right to receive.
That is why we are rebranding the month of May. And that is why we are applauding our champions in Congress and our incredible partners at Advocates for Youth, Healthy Teen Network, Planned Parenthood, and Power to Decide for working tirelessly to make Sex Ed For All a reality.
Join the conversation online by using and following the hashtag #SexEdForAll today! We'll be making noise all month long.